Aug 03 2018
Radium Girls – Friday, Saturday, Sunday!!
We have a busy month ahead.   This weekend are the final performances of RADIUM GIRLS presented by the Shelby County Players.    This powerful drama…
August will be fun:
AUGUST 11 – King, Killer, and the Man in Black
AUGUST 18 – Beatles Concert – The Fun 4
AUGUST 25 – Mystery & Magic – Mat Lavore Hypnotist
August will also include OPEN MIC!
AUGUST 8 – Music
AUGUST 9 – Comedy
AUGUST 10 – Open Stage
August fun continues with:
AUGUST 15 – Community Treasure Series – Special Education SCS
AUGUST 17 – Deep Red (1975) Friday Night Frights
We have a great lineup.  We need your support. Please consider attending one (or all) of these events.   We are proud to bring top flight local, regional, and national entertainment to the Strand.    Parking hasn't been a problem, we just don't have our spaces on Harrison Street.
Is it possible to change someone's memories? Read minds? Predict the future? Find out by coming to the Strand Theatre on August 25th. Nationally touring magician and hypnotist, Mat LaVore, will be bringing his critically praised theatre show, "Magic & Mystery" to the Strand's stage ONE NIGHT ONLY. You will not want to miss this.  Are you a Harry Houdini fan? Come see LaVore perform one of his most famous magical feats!
"Magic & Mystery" showcases 90-minutes of the most spellbinding and revolutionary magic and hypnosis ever performed on stage.  August 25, 2018 at 7:30pm. Tickets are available now at Mickey's T-Mart (cash or check only) and online at BrownPaperTickets.com
Starting in 2008 Kit Haymond started writing his own songs and formed his own group called Pressed In Black. Their first performance ever started at The Strand and 3 albums later they are back to play select songs from their 3 album catalogue. The band consists of Kit Haymond on Guitar/Vocals, Alex Moss- Bass/Vocals, and Cole Bettner on drums.   Kit will be joined by Trent Moss and the Fairland Ramblers in concert on Saturday September 1st. This is
outstanding local talent.
Strand Fun Fact:  Smelzer's Jewelry Store was located in the Strand Building.   It was in the storefront where our current concession stand and men's bathroom is located.   Chet Smelzer sold that business to Mr. Connor. It moved a few doors down and operated another two generations.    We have a ring box in our collection that is from Smelzer's Jewelry Store.
We are hard at work booking our 2019 season.  This week the Strand met with Alex and Sarah from the Grover Museum.   We are working on collaboration for 2019 events. On the list that was discussed is the 60th Anniversary Buddy Holly Tribute, Lincoln series, and a potential lecture series highlighting religion.   Sarah and Alex are two stars in the community and are eager and creative. We love their fresh perspective. It will be a fun year.
Time for trash talk once again.   Trash talk inherently isn't good.  This too fits that definition. We are all volunteer.   We clean the theater 120 times a year, and it is in performance shape every day of the year.   We rely on our 4 trash totes in the back of the theater. Unfortunately people think those are for general use.   Once again we are starting a 4 performance week with no trash availability because they are full of other people's rubbish.   We have endured our bins being stolen, used, and removed by others. This week we placed signs on our building and each bin warning they are for use by the Strand Theatre Only.   This is a needless expense, a hassled, and a sad commentary of our downtown. This can change if we all work together and lower our tolerance for activity that harms our community.  The question is easy, the answer is difficult.
We have wonderful sound equipment.   We have worked diligently and invested heavily in good equipment and quality components.    After 10 hard years of use, it is starting to show its age. One big problem is mic cables (warning, tech talk ahead)   The XLR cables are soldered at the connector. After constant use, the connections fail. This week we finally purchased a cable tester.    Our next work session in a few weeks will be focused on checking and cataloging all our sound equipment. We are like kids in a candy store.  This will be fun. We get to play with all our play toys! In the process we will find out what works, what needs repair, and what needs replacement.   This will be just in time for our concerts this month.
This week we had our annual fire extinguisher.   All of our extinguishers are inspected and cleaned by a volunteer each month.   Our vendor and supporter Crossman Fire certifies each unit every year. We passed!   We added a new fire extinguisher in the fly loft above the stage. This is a good thing to add, as it means we are making progress.  
Have you noticed our social media posts?   We want to thank our dedicated team of volunteers who diligently get things listed online.   Kori H. is one of our new volunteers and she is doing a wonderful job. She is extremely qualified for the job (by virtue of being a teenager), much better than the rest of us.
The Strand is a happy place.   We love seeing the creativity that comes to our theater each and every week.   The Shelby County Players are presenting a powerful well produced play, we hope you can attend.   Next week we have music that will get you dancing the the aisles and the list goes on. This is all because of your support and generosity, thank you!   See you at the Strand.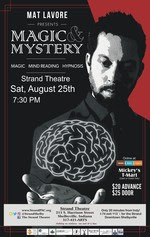 Comments Off on Strand Weekly Newsletter: August 3, 2018