Aug 23 2018
MAGIC & MYSTERY TOMORROW!
AUGUST 25, 2018
7:30PM   Tickets still available and at the door.
Dear Strand Fan,
There is still time!  Get your tickets for the Magic, Mind Reading, and Hypnosis show this Saturday night at 7:30PM. Come experience Mat LaVore perform impossible magic, read minds, hypnotize people to forget their own names, and even predict the future in his critically acclaimed "magical masterpiece," "Magic & Mystery". Mat LaVore has taken the very best of all the mystery arts and blended them together into one unforgettable show that always leaves audiences astonished long after they leave the theatre!
Mat LaVore has traveled all over the world to study from the very best in the fields of magic, mentalism, and hypnosis, and has been performing for the past 15 years. When asked, Mat told the Strand, "Being able to stand in front of an audience and create a connection with everyone in attendance is really special. My goal is always to give people a very real feeling of mystery and astonishment."
Don't miss out on "Magic & Mystery" this Saturday August 25 at 7:30PM.   Tickets are still available.
We are tired.   Two weeks, two monster setup shows.    The King, Killer, and the Man in Black took extensive setup but nothing compared to the Beatles Tribute Concert.    Work for the Beatles show started immediately after the KKMIB concert. We had to build a set, refocus our lightings, and most importantly execute a sound plot that was the most extensive we have ever done.
(Warning, tech talk ahead)  The set was designed to mimic the Ed Sullivan set in 1964.  While not difficult it was very time consuming. A theater should always stock black paint.   We are glad we did, as all the framing for the set needed painted black. We utilized our Stage Floor Gray and our wall colors too.    When done we accomplished what we needed. David F., Bill W., Bob S., and Floyd N. all worked on the set in three marathon sessions. David's design worked well.  
Our lighting hasn't been right for several months.   We had to focus every lighting instrument to make sure they were exactly as the light plot specified.  We also had to refocus (for the first time) all our LED stage lighting. With the addition of a few "specials" or auxiliary lights, we were able to have flexible and varied stage lighting for the concert.   The lighting design, which was integral to the set design, came out as planned.
Finally the sound setup.   Wow was it a Duesy! It utilized almost all our equipment.   In order to even consider booking a concert like the Fun 4 Beatles Tribute, a venue must have the necessary equipment.   The band flew in from Florida the day of the show. The only thing they brought were costumes and guitars. Everything else had to be provided by us.    First off big thanks to Alan McDaniel and Jeff Sponsel. Alan lent us his 1966 Ludwig Cocktail drum set, identical to the original that Ringo played. He also lent his 12 string Rickenbacker guitar.   Jeff lent us his wonderful Roland G8 keyboard. Jeff also helped the band set up the proper sounds from the keyboard. Without those three instruments, we would not been able to have a concert. Thank you Alan and Jeff!
The setup required 8 Direct Input (DI) boxes, 6 vocal mics, 2 drum mics, 5 monitors, 19 XLR cables, 10 ¼" patch cables, 6 boom mic stands, 1 kick drum mic stand, and 6 extension cords.   We utilized our upstage and downstage snakes. We had to repatch our monitor sends in our main snake to the sound board, along with providing a send to an in ear monitor. That is a lot of stuff!    Steve F. got things set up and Joey G. finished things off. The sound check was extremely technical with technically demanding fine tune requirements. We used 38 of our 40 board channels including our reverb unit.   These are all things designed by Ron B. years ago as "must haves" in a performing arts space.
Our only goof was building the platforms for Ringo and not being able to lower our movie screen for Friday Night Frights.  We worked hard to get the word out that the FNF movie was cancelled, we didn't get the job done. We had about 20 patrons arrive on Friday night.   Sadly a group from Muncie made the trek down. They were good sports and hopefully will be back on August 31st for the rescheduled showing of DEEP RED (1975) for the missed Friday Night Frights.
Thank you once again to the Shelbyville News and WSVX Radio for helping us market the show.   For the Elvis show you might remember we were able to sell 140 ticket in the last 24 hours. For the Beatles show we sold 132 in the last 24 hours.   It saved us! We were thrilled with the power of local media. We think the 132 that bought the tickets are glad they did, as it was an over the top show.
After the concert several patrons made the trek to the Skyline Drive-In to watch the 50th anniversary showing of YELLOW SUBMARINE.   
Thank you to everyone who attended, Joey G. for getting this show going, and band leader Bryan Wilson (John Lennon) who had faith in the Strand and agreeing to perform in Indiana.   Thank you also goes to former Strand Board member Gary Nolley for arranging all the flights back in February. It was a group effort.
This week we inventoried, checked, and labeled our sound equipment.   It is a long overdue project, but will make things simpler in the future.     We also received word from Coke that we should be ready to move our equipment out of the basement up to the lobby level in a few weeks.   We are looking forward to that! We have been fighting a few gremlins, but for now we seem to be winning. Hopefully that trend will continue.

Kit Haymond and his band PRESSED IN BLACK will return to the Strand on Saturday September 1, 2018.  It will be nice to welcome Kit back to the Strand's stage.  He will be joined by Trent Moss and the FAIRLAND RAMBLERS.   This is a chance to hear both groups in a concert hall setting without any other noises or distractions.   We look forward to the concert. Tickets are available at Mickey's T-Mart (cash or check only) or at the door.  Admission is $10.
We are working hard at our 2019 season.   We have over 77 performances already booked including the Shelby County Players, the 38th Infantry Division Army Band, a Buddy Holly tribute.  It will be a great year.

We hope you have enjoyed our programming.   We do it all because of you, thank you! See you at the Strand.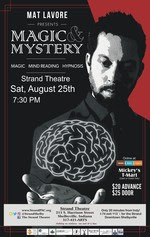 Comments Off on Strand Weekly Newsletter: August 24, 2018