Aug 10 2018
SATURDAY NIGHT
KING, KILLER, and the MAN IN BLACK
Saturday August 11, 2018  
7:30pm – Tickets still available!
On Saturday night we welcome back Brad McCrady, Terry Lee Ridley, and Frank Hamilton as Elvis, Jerry Lee Lewis, and Johnny Cash.    The KING, KILLER, and the MAN IN BLACK is a rock and roll concert playing all your favorite and familiar Sun Records tunes.   This year we also welcome Will Weigand as CARL PERKINS. Come out have enjoy a wonderful evening of music at the Strand.  The concert starts at 7:30pm and plenty of tickets are available. Tickets are available locally at Mickey's T-Mart (cash or check only) or online at BrownPaperTickets.com   
Before the concert on Saturday we urge you to visit the Shelby County Fairgrounds for the first BIG BLUE BARBEQUE FESTIVAL.   Get your grill on for this nationally sanctioned BBQ event.    It starts at 10am so plenty of time to visit before our concert.  
Next week on Saturday August 18th we host an outstanding BEATLES CONCERT featuring the FUN 4.   The Fun 4 is comprised of musicians from Florida and Arizona that have toured the country performing high quality Beatles tribute concerts.   Tickets are still available locally at Mickey's T-Mart (cash or check only) or online at BrownPaperTickets.com    We hope to see you!
Only 2 weeks until we have our highly anticipated HYPNOSIS DEBUT.  Mat LaVore is bringing his nationally touring magic, mind reading, and hypnosis show to the stage on August 25th.  Come see astonishing magic, impossible mind reading, and some of the world's very best hypnosis all together in one incredible night.  If you like Harry Houdini, David Blaine, Michael Carbonaro, or Penn & Teller, you DO NOT want to miss this. Tickets are still available locally at Mickey's T-Mart (cash or check only) or online at BrownPaperTickets.com
This week we hosted our first ever OPEN MIC at the STRAND.   Wednesday saw 6 musicians taking their talent to our stage.   Host Mike Evans welcomed Erich Davies, Jocelyn Sadlowski, Kari Snepp,  Ian Hall, McKenna Hall, and Jim Wendel. (Local musician Bob Rogers was late in arriving and was not able to perform)   It was a fun night. Mike Evans is witty and excellent MC!
Thursday Night we welcomed the comedy crowd to the Strand.   Host Lissa Sears ran the evening for the Strand. Lissa came to us via our friend Todd McComas.  She has opened for Pat Mcafee and is a funny person! We had 3 test their comedy on our stage. Each did a great job.   Since it was a low turnout we suspended the five minute time limit. The evening finished with comedian Artie Widgery who came to support our efforts with open mic.   Thank you to all who attended or performed in our first two nights of OPEN MIC. We continue tonight (Friday) with open stage night. Our host will be hip hop artist Kid Quill.   We don't quite know what will be on our stage, but take a chance with us and come tonight. The performance starts at 7:30pm.
WORK SESSION – SATURDAY – AUGUST 11th 9:00am
(Yes, that is tomorrow morning)
We are hosting a work session this Saturday to prepare for upcoming performances.   Top of the to do list is to "fly" or hang a new projection screen. (Warning, tech talk ahead)  Back in the day, the Strand then called Cinema 3, had two theaters downstairs and one in the balcony.    The movie screen in the 49 seat small theater to the right in the auditorium has been saved by the Strand since we started in March 2007.   That screen has survived all these years being shuffled from place to place. It is time to press this old movie screen into service. We are hanging it off of the original 1916 rigging in the ceiling above the stage.   These pulleys were installed to fly scenery. They are being reused to fly this smaller screen that will be used for the first time at our Beatles Concert on August 18th. This is a major addition to our cache of equipment we can use for our performances.    If you can help, we will be at the Strand starting at 9am and should finish around noon.
We fought other gremlins this week too.   The Shelby County Players wanted us to move our auditorium exit sign along with the alarm strobe and pull station.    This had to be done professionally. These items are made to be installed and left alone. When we placed them back in their original location on Wednesday the pull station would not work.  This is a deal breaker, no pull station no performance. After over an hour of work the two electricians and one Strand volunteer discovered the problem. It was an odd problem, but an easy fix.    Our afternoon didn't quite go as planned!
Work is continuing to prepare our offices and projection booth.   The offices have been on hold pending approval of funding from Mainstreet Shelbyville for professional restoration of our office windows.    When we removed the boards from the windows over a decade ago, we did those windows with volunteers. We did a good job, but not a professional job.   They have since failed and are preventing us from using our newly reclaimed office space. Window restorer (and Strand performer) Jim Wendel from Moscow Millworks will be doing the work should funding be made available.    The Strand volunteers will still be doing work, but things like outside painting. We should find out this week whether the project is funded or not as part of the Mainstreet Facade Grant Program.
Finally we are still working on the gremlin causing our lighting system to "flash."   We have an idea, but it is labor intensive to test out the theory. One way or another we will get this solved too.

Open Mic has been fun.   Doing something different is always fun.   This is all because of your interest and support, thank you.    See you at the Strand!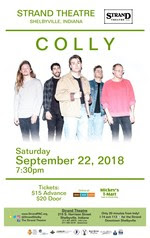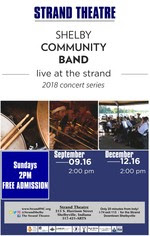 Comments Off on Strand Weekly Newsletter – August 10, 2018